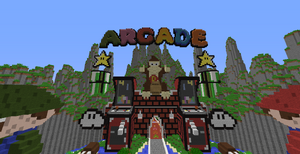 Arcade was a collection of Minigames that were fast-paced and easy to play. The 3 Minigames on Arcade were Splegg, TNT Run and One in the Chamber. One in the Chamber used to be an Arcade game, but it was removed on the 28th of April 2018. Arcade was added 20th November 2015, when TNT Run and Splegg were added. One in the Chamber merged into Arcade on that date. Splegg and TNT Run were removed on the 19th of July 2018, removing Arcade in the process.
Arcade had its own building in the Lobbies. The Arcade Minigames also had their own special waiting lobby design. To see the maps of each game mode, visit the corresponding pages.
List of Games
Edit
Splegg
TNT Run
Once in the Chamber (OITC)
Arcade Merchants
Edit
See Merchants for more information.
Donator Advantages
Edit
There were no Donator Advantages for the Arcade Minigames.