Helper is one of the staff ranks on Minecraft Central. It was added on the 17th of June 2015 and can be obtained by applying for it on the website. A total of 330 users have had this rank.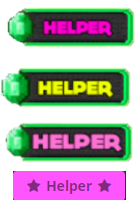 Helper is the lowest achievable staff rank. The users who have this rank have the ability to issue warnings, mutes and TPA revokes. They have the basic staff abilities on the Discord Server and in-game. This rank acts as a trial for the Moderator rank.
Community content is available under
CC-BY-SA
unless otherwise noted.