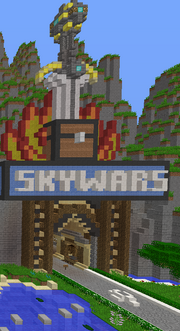 Skywars is one of the Minigames of Minecraft Central. It has been around since the start. It has 259 arenas and 37 maps. The maximum amount of players that can play in the same game is 12. At least five players were required to start the game before 13th of May 2017. The requirement got changed to 12, and on the 13th of March 2018 the requirement was changed to 8.
General Info
Skywars is a Minigame in which players spawn on an island. They need to gather resources with the help of supply chests. A chest can be found from every island. Some maps have a centre where there are many chests. Some maps even have enchantment tables. With your resources and weapons, you bridge or ender pearl to other players' islands and try to kill them. The last player standing wins. If the time, 900 seconds, runs out, the player with the most kills wins.
Update of May 13th 2017
On the 13th of May 2017 an update was launched to Skywars and Team Skywars. This update implemented a new joining system (no more signs), a better backend system and a new waiting lobby (uses the same as in CakeWars and barrier blocks around the map to prevent escaping). The EXP levels based on your Credits were removed and EXP bottles added to the chests instead, but this change got quickly reverted.
Trivia
Skywars Merchants
See Merchants for more information.
Donator Advantages
- Gold ranks get Explosive Arrows.
- Emerald ranks spawn with 32 TNT.

Maps
There are 37 maps. These are: Skynether, Sky Enix, Nightmare, Luxury, Modernized, Station, Aquarium, Timekeeper, Paris, Macario, Aspiring, Sky Mine, Derelict, Freeze Breeze, Sylvan, Modern Towers, Future Station, Rusted Tracks, Spire, Autumn Huts, Haven, Nordia, Candyland, Arid Sands, Meadows, Villa, Acer, Invasion, Lost Fortress, Unknown Lands, Chinese Islands, Western Mines, Rome Retreat, Air Ships, Fungi World, Sky Sins and Stumps.
There have been more maps before but they were removed as a part of the big Skywars update on the 19th of February 2016. These maps were: Skyland, Skyforest, Funland, Sweetlands, Siege, Arden Island, Mushy Grounds, Marioland, Holiday Season, Jungle Ruins, Unknown World and Skycastle.
On the 22nd of August 2017 as part of the August Map Update, the following maps were removed: Fortress, Pinnacle, Shrine, Cakeland, Cuniculo and Crystal Zone.